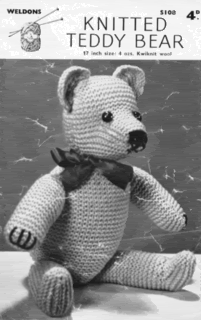 Recently all my friends seem to be having babies! I'm sure there comes a point in every knitter's life when this becomes the case, and as enjoyable as it is i don't seem to have any time to sleep!

So starting a blog may not be the best of ideas. But if I'm not going to knit then why not write about knitting?


Project no. 1 was for Archie, he was born last month and this was supposed to be finished before then. Its from this lovely little pattern i found
here
:

* Edit - this link no longer works - I will post up the pattern when I get a moment!

I wasn't sure about the garter stitch in the pattern. I've never really been a big fan, yet whenever I do it I'm pleasantly suprised! So I went with stocking stitch in the end and decided to use sock wool and downsize the pattern (which is for a 17" bear, enough to frighten any baby!)

Here's the result :)

I've grown quite attached to him! It's been really nice to gradually see him come to life, i think there might be a few more to come!

Just need to give him some paws now and sew in a few loose ends.. and then i have to bring myself to give him away... i feel like a surrogate mother!